September 26, 2008
After a long wait, Brothers in Arms: Double Time finally came out this past Tuesday on the Wii. I'm not really a fan of war games or of first person shooters, so why do I care? Well, it's my first game credit — I was a developer on it during the summer of 2007 when I was an intern at Demiurge Studios. It sure is exciting to see a game on sale on GameStop that, when you go to watch the credits, has my name in it.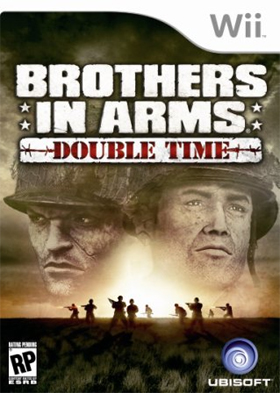 And if you do so, you'll notice that the programming team at Demiurge is listed alphabetically by first name, except for me. I was added to the project midway through development. The credits had already been (mostly) done before I joined the team, and then they slapped my name onto the end of the list; nobody ever bothered to resort it afterwards. Was it intern bias? Nah, I think they just didn't think to resort it.
Double Time is a port of the two games Brothers in Arms: Road to Hill 30 and Brothers in Arms: Earned in Blood to the Wii. The two games were originally made by Gearbox Software for the Xbox in 2005; they had been previously ported to the PS2 and Windows. Gearbox contracted Demiurge to do the Wii ports. If you're into war games, you'd probably enjoy Double Time, since it's not your typical run-and-gun shooter — you (gasp) have to use tactics to beat it.
You should all go down to your friendly neighborhood video game store and buy Brothers in Arms: Double Time! Two great games for the low price of $50!